Education
GED Instruction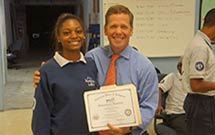 For students who have not received a high school diploma, YCC offers on-site classes designed to prepare them to take the GED examinations (Mathematical Reasoning, Science, Reasoning through Language Arts, Social Studies). YCC has qualified instructors on staff to assist our members in achieving their goals and provide assistance through tutoring and study groups.
Bridge To College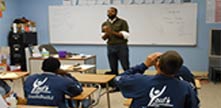 As part of our Bridge to College Program, the YCC provides students with the tools to make it through college. YCC provides strong role models who can help them navigate the path to college. Most first-generation college students enter school unprepared or behind, resulting in graduation rates of only about 11% after 6 years.
The benefits of a four-year degree are overwhelming. Based on an analysis of Department of Labor statistics by the Economic Policy Institute in Washington, Americans with four-year college degrees made 98 percent more an hour on average in 2013 than people without a degree. In addition to obvious economic rewards, our youth are searching for a path of self-worth and stability that a meaningful career offers.
Our Bridge To College program offers various types of assistance:
College visits
Guidance with confusing funding tools (eg: FAFSA)
College application and scholarship assistance
After acceptance, we continue to help our students to make sure they have the support they need to grapple with the challenges of college. These services include:
On-campus counseling, tutoring and guiding students through the first semester of college and integrate them into "college culture".
Time management and study skills training.
Scholarships: connect members with qualifying scholarship opportunities and assist them with the application process.
---
Employment
YouthBuild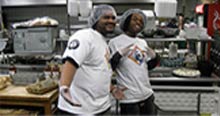 The YCC YouthBuild Program helps young people who have dropped out of school and are not working get back on track. YCC bases its program on the proven national business model of YouthBuild® USA — a highly respected organization with over 260 locations throughout the country. Within that framework, YCC is able to implement the most effective training and guidance, resulting in program completion rates of around 80%.
We help them overcome barriers to success including:
Offer coursework to help them obtain their GED or high school diploma
Teach them crucial job skills that are usually missing in their chaotic lives including:
Job readiness (construction and carpentry skills)
Leadership development that builds character and self-confidence.
Community involvement to gain real work experience and give back to their communities. Members work to build affordable, LEED-certified housing units in Waukegan.
---
Life Skills: Transforming and Empowering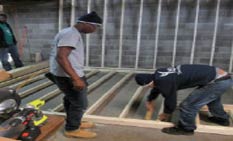 Self-awareness classes to set goals and plan for a future

Anger management

Substance abuse remediation

Parenting classes

Support Services – Housing referrals

Food and clothing donations
---
Mentoring
Can you think of a mentor you've had in your life? Someone whose wisdom, guidance and support helped you to become the person you are today?  At Youth Conservation Corps we believe those people are critical in every person's life, but especially in the lives of the young adults we serve.
Our YouthBuild program is seeking mentors. Mentors are a key part of the YCC community because they support the learning, development and life exploration of the members. Mentors become an integral component in the success of youth, both in the program and out.
If you are interested in becoming a mentor, please contact our mentoring program coordinator, Bill Foltz, at 847-623-0900.
---
Summer Conservation Program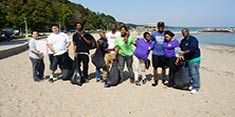 Youth Conservation Corps (YCC) Summer Program provides job opportunities and environmental education to hard-working high school students interested in preserving Lake County's wetlands, prairies and woodlands.
This program is a public/private partnership between YCC and the Lake County Forest Preserve District.
Why Participate?
Gain and develop valuable life skills including excellent work habits, teamwork, leadership and communication

Foster a love and understanding of the environment through educational opportunities and hands-on work experience

Learn conservation and light construction techniques

Spend the summer outdoors

Earn money! YCC participants earn a state minimum hourly wage
What to Expect
You will work to preserve and protect some of Lake County's most treasured natural lands. The day to day activities of YCC crews are as varied as the teenagers who participate in them. Tasks may include:
Develop nature trails

Plant native flora

Construct trails, bridges or boardwalks

Participate in erosion control studies

Build and restore canoe launches

Restore stream banks, rebuild wildlife habitats …and much more
In addition to conservation work, YCC teams also receive regular environmental education, participate in team-building exercises, and have a chance to enjoy the benefits of their hard work through recreational activities from camping to canoeing.
Want to Join?
YCC is open to Lake County residents aged 16-18. The program runs eight weeks, beginning in mid-June and continuing through early August. Participants work five days a week, Monday through Friday, eight hours each day and earn the state minimum wage. Participants are split into crews consisting of six members and are led by a trained college-level crew member.
Crews are recruited from urban and rural high schools in Lake County and represent a varied mix of ethnic and economic backgrounds. New participants are selected through a lottery, with an equal number of male and female crew members chosen each year. Returning corps members receive priority placement at the recommendation of their crew leader.
[social]