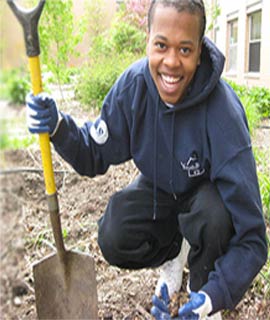 Youth Conservation Corps (YCC) began in 1974 as a program for high school youth to offer hands-on conservation work on public lands with environmental education.
In light of the great benefits of this program, funding shifted to private sources in 1981 when local businesses and community members established a committee to keep it alive. These supporters saw the value in teaching young people conservation skills while providing for the upkeep of our local jewels – the forest preserves of Lake County. The program still thrives today thanks to a continued public/private partnership between Youth Conservation Corps and the Lake County Forest Preserves.
In July 2001, YCC began its first year-round comprehensive youth development program to address the significant needs of at-risk youth in our community. Our programs are targeted at unemployed, disadvantaged, and ex-offender young adults ("Opportunity Youth") who have dropped out of school in the Waukegan area. We provide a practical, cost effective alternative to prison and drug abuse.
Since that time YCC has offered youth development programs that focus on preparing youth for the workforce. Vocational and job skills training are offered in construction/carpentry, environmental conservation, computer technology, and education.
In 1994, YCC received its 501(c)3 non-profit designation to expand the programming and enhance fundraising that supports our important programs. Youth Conservation Corps has grown enormously over the years, impacting thousands of young lives.
TO DATE, WE HAVE SERVED:
More than 2,000 young adults

Provided over $250,000 in education scholarships

Performed over three quarters of a million hours of community service.
YOUTH CONSERVATION CORPS IS THE GRACIOUS RECIPIENT OF THE FOLLOWING AWARDS AND RECOGNITION.
HERO Award/The Fuller Center For Housing

City of Waukegan resolution recognizing YCC's volunteer clean-up efforts at the Carnegie Building

Illinois Congressman Robert Dold announcement 's of Dept. of Labor grant recipient

YouthBuild USA Solidarity Award

YouthBuild USA Outstanding Achievement in Academic Testing Advancement

Illinois Governor's Home Town Award for Community Development

National Association of Service and Conservation Corps' Exemplary Conservation Project Award

Illinois Park and Recreation 

Association's Community Service Award

National Association of County Park and Recreation Officials Friends of Park and Recreation Award

Illinois Park and Recreation Association 

Award of Merit for the YCC Conservation Program
Nature of Illinois Foundation The Gaylord Donnelley Award for Dedication and Energy in Conservation Service
National Association of County Organizations Achievement Award for Community Service
---